What happens in Vegas, stays in Vegas...
but not in our case! (I warn you - this is long.) We had a great time on our trip. We went to every casino and stayed within our allotted amount of money we could gamble with. We played tons of nickel and penny slots with our favourites being the Top Dollar, Deal or No Deal, and the huge Wheel of Fortune. We won and lost the whole time and ended up losing in the end. It was a lot of fun though.
Other highlights of the trip included seeing Cirque du Soleil's Ka
which was phenomenal and having some great dinners out. This was us that night. :)
Speaking of dinner, we were at a nice Italian restaurant in the Venetian and after the appetizer I was stuffed, so I only really had two bites of my lasagna. As they were clearing away our dinner plates, the couple next to us got up to leave and leaned over to say that they were leaving because they noticed that I didn't eat any of my food and that I must not have enjoyed it. I explained that I was pregnant and really quite full but that the food was delicious and that they should stay. The man looked quite relieved. :)
An now for some pictures. (I have realized that Marc and I take the same photo at pretty much every place we go.)
Here is a view from the Venetian. It has canals and gondolas all over the place and the building is set up as if you were in Italy.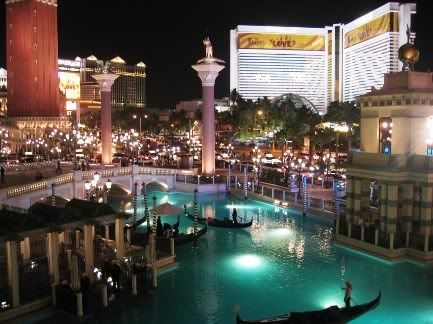 A picture of me in front of the Arc de Triumph at the Paris Las Vegas.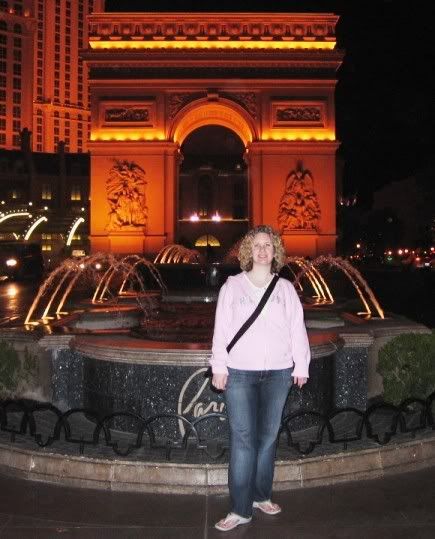 A picture of Marc in front of the Atlantis fountain. I'm not sure what casino it is in, but there was a Cheesecake Factory right behind it.
They have glass flowers on the ceiling of the Bellagio. I love them - they just make me happy to look at them.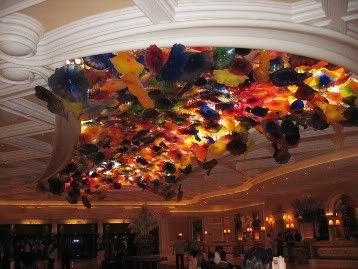 Here are some pictures of Hoover Dam. It was really quite impressive.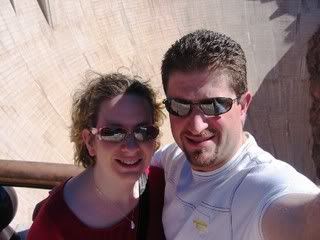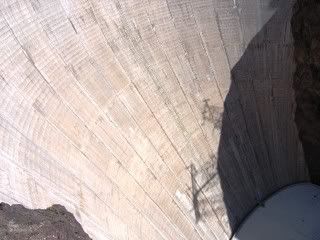 A shot of the Stardust casino which is going to be torn down next week.
We also went to old Las Vegas to Freemont Street and saw the cool light show.
This is the before the light show where all the casinos have their lights blaring and it is business as usual.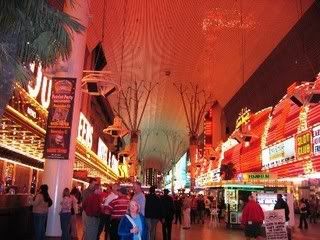 Then the show comes on, all the casino lights go off and the over head ceiling screens light up with a variety of different shows. It was really cool.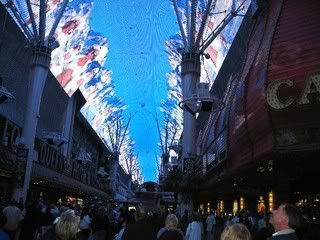 And finally our ode to "Gus" - Marc took a picture of me wearing a Top Gun aviator helmet. (Gus is what Gramma said her Top Gun name would be.)
It was a great trip and we really enjoyed it.